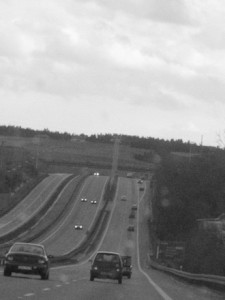 Driving on the interstate can get pretty boring. Not this day. As reported by fosters.com:
A Massachusetts woman was arrested Friday evening after she allegedly "mooned" several drivers on Interstate 93.

Bow police Sgt. William Graham was driving a marked police cruiser northbound on the interstate at approximately 7:35 p.m., when he reported that his attention was drawn to a female passenger in the car in front of him.

The female, later identified as Stephanie K. Sherburne, 22, of Billerica, Mass., was standing in a crouching fashion on the passenger's side front seat of the car, with her backside to the open passenger's window. She then, allegedly, lowered her pants and exposed her genitals.

Since it was the weekend of the NASCAR race in Loudon, traffic was heavy there were several cars in the vicinity when Sherburne exposed herself, Graham reported.

The police sergeant stopped the vehicle Sherburne was riding in and arrested her on a charge of indecent exposure and lewdness. She was released on personal recognizance bail to appear on Sept. 4, in Concord District Court.
Here's the source, which includes Ms. Sherburne's mug shot.