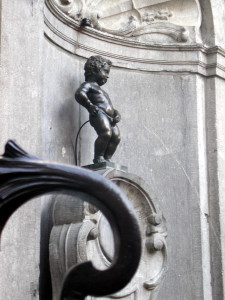 Urinating in public? Well I never! Okay, maybe just this once … or, maybe not. As reported by The Iowa City Press-Citizen:
An Iowa City Man was arrested for public intoxication at 10:40 p.m. Sunday after telling police the yellow liquid flowing through a handrail on steps leading to an apartment building was beer.
Told you it was novel, but …
… police say they saw the man urinate, pull up his shorts and no beer cans or bottles were located near him, according to a criminal complaint.
A post-arrest breath test showed Connor Thomas Glascott, 19, of 1956A Broadway St., had a blood-alcohol content of .249, according to police.
Yikes. That's three times the legal limit in many states.
"The urine was seen flowing through the handrail. The defendant stated he was pouring out a beer," the criminal complaint states. "There was no open beer can/bottle in the area the defendant was standing."
Click here for the source.