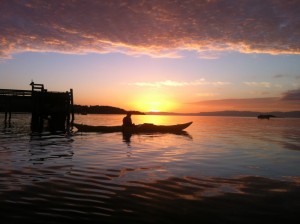 If you were to consider various means of escaping the country, there's no way you would even include a kayak on your list. Well, it worked for this gent. As reported by The Hunterdon County [New Jersey] Democrat:
Steven Pieczynski, 38, who also once lived in Lambertville, was convicted by a jury in a trial conducted by Superior Court Judge Stephen B. Rubin in March. Assistant Prosecutor Anthony Anastasio presented the case.
But he wasn't jailed pending sentencing. And there was a kayak, and …
Pieczynski entered Canada illegally on Sept. 29, 2012, "using a kayak, launched from Lewiston, N.Y., on the Lower Niagara River," the prosecutor said. After crossing the river, he made his way to the Toronto area.
You already know it didn't last.
Detectives eventually tracked down Pieczynski, and on Oct. 23, 2012, members of the Toronto Police Service Fugitive Squad, the Integrated Border Enforcement Team (IBET), the Ontario Provincial Police, and the Canada Border Services Agency arrested him at the home of a woman he met on the Internet, Kearns said. He was extradited back to the United States.
Bam! And he was just sentenced to 4 years for skipping out. But that's not all.
Pieczynski still faces sentencing on the original burglary and theft conviction.
You'll find the source here, including a mug shot.