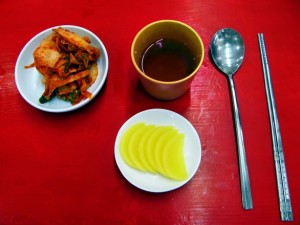 Who would go to a restaurant if they suspected the food might be tampered with? Well, there's at least one woman who appears to fall into this category. As reported at highlinetimes.com (Washington State) in the police blotter:
A Burien woman dining at the Tung Kee Mi Gia Chinese restaurant that opened in north Burien in late 2013 called the police after she suspected cooks of serving her urine with her meal on the evening of March 17th. The victim insisted that police come to the restaurant on the corner of 16th Avenue S.W. and 112th Street to investigate the suspicious sauce she had been served. Upon arriving on the scene, police quickly discovered that what the victim believed to be a small cup of urine, was actually a small cup of fish oil. Despite having no evidence to substantiate her urine claims, the woman insisted the fish oil be tested. Police report zero urine findings.
With no evidence, The Juice is left wondering why the police wasted their time.  Actually, it was probably a good investment – so she wouldn't continue to hassle everyone about it forever. Hey lady, fuhgeddaboutit! And next time, ask them to hold the fish oil.