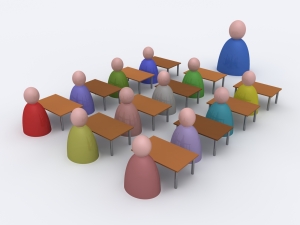 If you have successfully beaten the system (way to go New Jersey!), and are getting paid on an ongoing basis, why would you take an on-the-books job? See, that's how you get caught. As reported by NJ Advance Media for nj.com:
[Former Piscataway, New Jersey teacher] John Brishcar, 59, of Front Royal, Va., admitted he received the money [$248,960] after claiming in 2003 he could no longer work as a middle school teacher for the Piscataway School District due to "prolonged stress and chronic back pain," the Attorney General's Office said.

The application for disability was approved in 2004. By that time, Brishcar was working as a substitute teacher in West Virginia, and, in 2005, he accepted a full-time job as a sixth grade science teacher at Warren County Middle School in Front Royal. Brishcar has since been suspended from his Virginia job pending the outcome of the case.

Brishcar pleaded guilty to theft by deception before state Superior Court Judge Timothy Lydon in Mercer County. As part of the plea deal, he must repay $248,960 and will be permanently barred from public employment in New Jersey. In return, prosecutors will recommend he be sentenced to three years in prison.
Crooked and greedy! What a great combination of traits in an educator. Click here for the source, including a photo of Mr. Brishcar.