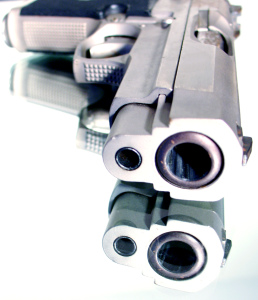 Maybe this will get you some street cred, but it also got you busted.  As reported by The Belleville News-Democrat (Illinois):
A YouTube video is being credited with helping investigators track a retired Venice police officer's badge and gun to a metro-east family.

According to police reports, they spotted two men with the stolen gun in a homemade online music video. They were able to trace the video to a residence in Madison.

Detective Mike Renth said Corry Williams and Torry Williams are wanted for unlawful possession of a firearm and aggravated unlawful use of a weapon. Police found the retired officer's missing badge and identification card, police said. The stolen gun has not been located.

The men's mother, Tunisia Williams, of 1715 Edwardsville Road in Madison, has been charged in connection with the theft. Renth said Torry Williams, 19, resided in his mother's home and Corry Williams, who is believed to be in his early 20s, is from out of town.
How did the cops know to watch that video? Unknown. You'll find the source here.