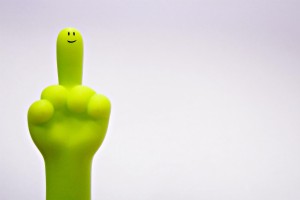 Yes, folks, this bird is protected by the Constitution, as the City of Pittsburgh learned the hard way. Back in 2006, David Hackbart (of Butler, Pennsylvania) flipped off a cop, and got a disorderly conduct citation. He fought it, hard. Per the Pittsburgh Tribune-Review:
Pittsburgh City Council initially approved today a $50,000 settlement for a lawsuit filed by a Butler County man who gave the middle finger to a motorist and a police officer in 2006.
The officer cited him for disorderly conduct. The county eventually dropped the charge, but Hackbart sued to recover the cost of defending himself. U.S. District Judge David S. Cercone ruled in March that the officer violated Hackbart's First Amendment right to free speech.
You can read more bird-flipping stories here, here, here, and here