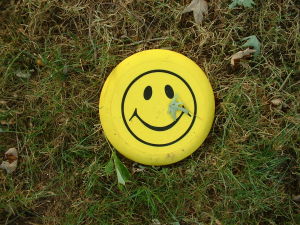 There's a certain part of Helena, Montana where – let's just say if you're going there, LEAVE YOUR DISC AT HOME, lest you be accused of folfing.  You really don't know what "folf" means? Well, as defined by the Helena Montana Code, folf is "A game formally called disc golf. It is played with golf discs and simulates the game of golf in accordance with the rules of golf on a course usually containing nine (9) to eighteen (18) "holes" or "tones". The holes or tones are predesignated stationary targets. The purpose of the game is to hit each of the targets with the golf disc with a minimum number of throws."
But you can't just folf anywhere. No sir.
5-13-2: FOLFING PROHIBITED:

No person shall play or engage in the game of folf or throw a golf disc at nighttime in any area within the business improvement district that has not been sanctioned as a designated folf course by the city. (Ord. 2797, 6-23-1997)
Son, you have been warned. And if you don't heed, well here's what.
5-13-3: PENALTY:

Any person violating the provisions of this chapter is guilty of a misdemeanor and may, upon conviction, be punished by a fine not to exceed five hundred dollars ($500.00) or imprisoned in jail for a term not to exceed six (6) months, or both.
Can you imagine someone actually getting 6 months in jail for playing disc golf? Here's a link to the Helena, Montana Code.