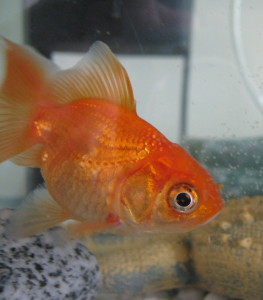 We get it. You're mad at your boyfriend. So sure, bust his TV. But the goldfish? That's just mean. As reported by The Orlando Sentinel :
An Orlando-area woman is facing charges after she was accused of trashing her boyfriend's home in Pine Hills and using bleach to kill his goldfish, a report alleges.

Angela Garcia, 32, was charged with felony criminal mischief and animal cruelty on Saturday, according to a report from the Orange County Sheriff's Office.

A deputy was called to a house on Pipestone Court, a half mile southwest of Silver Star and Hiawassee roads, at 1:35 p.m.

The alleged victim's son told deputies Garcia destroyed electronic devices and poured bleach into his father's fish tank, killing five goldfish.
You can read more, and see Ms. Garcia's mug shot, here.