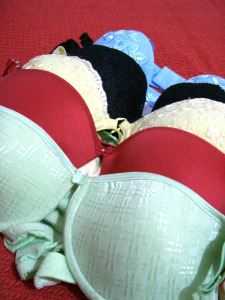 You'll have to click on the link below to see the photograph of the haul. Only then can you understand the magnitude of what this fetishist did. As reported by The South China Morning Post:
Some thieves have a penchant for the strangest things.

Residents in Yulin city, Guangxi province, were treated to a colourful array of more than 2,000 sets of women's lingerie laid out neatly on the ground at a public space in their neighbourhood on Saturday.

The used underwear, which belonged to women in the neighbourhood, had been stolen by a male resident over the course of the year, news website Gxnew.com.cn reported.

The report said the man hid the stolen lingerie above the false ceiling of several stairwells within the residential building where he lived.
Click here for the source, and to see the photo of the stolen items.