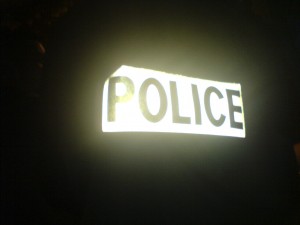 So nice of you to pull over here! As reported by The Williamson Daily News (Williamson, West Virginia):
Patsy L. Kidwell, 48, and Ransom Lee Endicott, 52, both of Delbarton, were arrested after officers allegedly received a call notifying them that two individuals were unconscious in the front seat of a white Chevrolet. The car was parked outside the state police Williamson detachment, within walking distance of Trooper First Class J.K. Harris, who saw both defendants, seemingly unconscious in the vehicle.
So it turns out it wasn't such a good place to pull over.
Harris woke both individuals and asked them to get out of the vehicle. Endicott got out of the car first and allegedly was unsteady on his feet with slurred speech. Harris conducted an officer safety pat down on Endicott, at which time a hard object reportedly was felt in the right front jeans pocket of the defendant. Endicott advised the officer that the object was a bottle of pain pills, according to the police report.

Both defendants performed each of the three standardized sobriety field tests unsatisfactorily and were placed under arrest for driving under the influence.