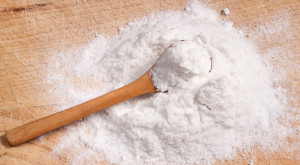 Yes, you're right. It wasn't just any old salt. It was Epsom salt! As reported by The Fraser Coast Chronicle:
A Maryborough man charged with "ice" possession spent four months in prison waiting for forensic analysis of the substance – but was later released when testing determined it was not methylamphetamine.
Four months while the guy languished in prison?
The revelation comes after Maryborough Magistrate John Smith recently criticised the state's Forensic and Scientific Services, after a matter had to be adjourned to wait for scientific analysis of the suspected drug material.

But Queensland Health, which runs the service also known as the John Tonge Centre, claims there are no delays in forensic testing.
Really? Tell that to the guy with the salt.
Suthers Lawyers solicitor Travis George said he recently had a client who was charged after police found a substance they believed to be methylamphetamine in his car during a routine check.

Mr George said due to his client's previous criminal history, he spent about four months in prison while waiting for the forensic results which determined the substance was not ice but Epsom Salts.

"The charges were then withdrawn by police," Mr George said.

Mr George said delays in waiting for forensic analysis were not a new issue.

"It has always been a concern for our clients about delay due to awaiting analysis where it is forensic," he said.

Mr George's comments come after Maryborough Magistrate John Smith spoke about the John Tonge Centre when he was forced to adjourn a case for a further two months in order for forensic analysis to be completed.

"For the last 14 years nothing has been done (about the delays)," Mr Smith said.

"Once again the government needs to have a look at what they are doing in relation to this."

Mr Smith said both the LNP and Labor state governments had "made a song and dance" about improving Forensic and Scientific Services.

But despite this, a Queensland Health spokeswoman denied there was a backlog for Forensic and Scientific Services.

"Urgent cases are completed within the timeframe required by the police and the courts," she said.

The spokeswoman said the centre was continually assessing evidence testing processes to improve turnaround times.

"All forensic testing performed at FSS is prioritised daily with police and the courts," she said.

"The time taken to bring a drug case to court is dependent on many factors."

The centre deals with about 5000 samples in relation to criminal cases each month, with workloads increasing during the past five years. The Queensland Police Service declined to comment saying it was a matter for Queensland Health.
No backlog? No backlog? Here's the source!