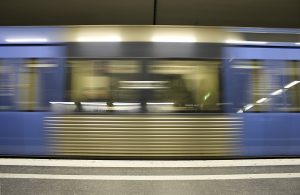 You go out drinking, and shit happens. But four times? Fuhgeddaboutit. As reported in the The Police Blotter in The Brooklyn Paper [88th Precinct (Fort Greene–Clinton Hill)]:
Some careful crooks emptied the pockets of a man sleeping on the Q train on Dec. 13, according to police.

The groggy 43-year-old straphanger said he was drinking at a bar in the Midtown section of Manhattan and boarded a Brooklyn-bound Q train at 11:30 pm on Dec. 12.

He fell asleep, and did not wake up until the train was heading back toward Manhattan, then exited at the Atlantic Avenue-Barclays Center station, the authorities reported.

He discovered that his wallet, cellphone, and bottle of anxiety pills were all missing from his pockets, cops recounted. The same thing has happened to the victim four times since 2007, officers added.
Doh!