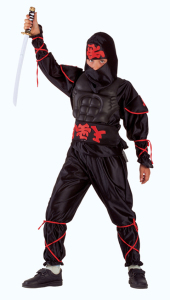 What could possibly bring a ninja warrior to tears? Well, if ninjas could cry, the thought of what this man tried to do dressed as a ninja might do it. As reported by myfoxorlando.com:
It was a scary morning for a local woman when, deputies say, a man in a ninja mask attacked her in her own home.

According to the Pinellas County Sheriff's Office, 29-year-old Nick James Nardelli entered the woman's home through an unlocked door early Monday morning.

The woman said she woke up and saw the masked man, unknown to her, standing in the doorway to her bedroom.
Uh-oh. (Don't worry. The "uh-oh" is not for her.)
He then jumped on top of her, she said, and zip-tied one of her arms, but she still managed to fight him off.  He ran out of the house and hopped in his car to get away, but deputies say he crashed it into a sewer drain.
Doh!
When they arrived, they found a ninja mask, zip ties and duct tape in a nearby trash can, as well as a receipt for those items in his car.

Detectives said Nardelli admitted to the crime during questioning, and said he didn't know the woman, but targeted her after fantasizing about it.

Nardelli faces charges of loitering and prowling, burglary with assault or battery, false imprisonment, attempted sexual battery, and possession of burglary tools.

He has been booked at the Pinellas County Jail on a $175,000 bond.
Here's the source, which includes a mug shot.