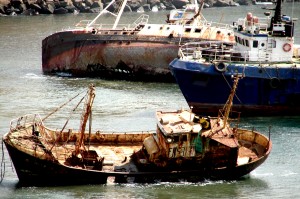 You'll probably conclude, as The Juice did, that had loose lips not solved this crime, these gents would have found some other way to make it easy for the cops to close the case. Per The Florida Times-Union:
Two Kings Bay sailors have been arrested in last month's break-in at a Fernandina Beach art gallery after one was overheard bragging about how the artwork was hanging on his wall.
Doubly brilliant! He bragged about it, and he displayed it on his wall!
Jonathan Ibrahim, 27, and Nathan Mendoza, 23, told police they were drunk and walking back to their vehicle when the Island Art Association's back door was kicked in May 6, Police Chief Jim Hurley said. Police recovered all five pieces in an apartment where one of the suspects lives, Hurley said.

Hurley said Ibrahim and Mendoza were attempting to use their intoxication as an excuse.

They are charged with burglary, grand theft and criminal mischief and will face disciplinary action by the U.S. Navy, according to the Police Department.
The Navy too. Must have been some valuable art to risk all that.
Hurley said the artwork, which included some scenic beach paintings by city residents, totaled about $1,200 to $2,000. One of the two sculptures was broken beyond repair, the Police Department said.
Doh! Click here for the source, which includes a photo of one of the paintings.