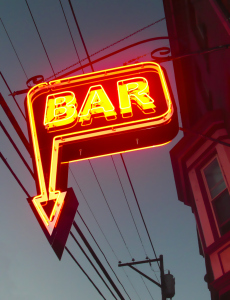 You own a bar in a college town. Seriously, who would think that the cops would ever stop in to make sure your patrons are of age? And anyway, it's not like the joint is filled with kids. Er, what's that you say? How many? As reported by North Country Now (Potsdam, New York):
Village police say a compliance check at Backstreets, Market Street, resulted in 46 underage patrons being charged with trespass.
46!!!!! Uh-oh.
The bar's owner, Steven J. Bond, and manager, Michael Caringi, are also in hot water.

Police say charges against them are pending through the state liquor authority.
Very hot, The Juice would think.
Potsdam police were assisted by St. Lawrence County Sheriff deputies and SUNY Potsdam police.

Bar management told officers no one under 21 is allowed inside, which resulted in charges being filed, Potsdam police said.
Click here for the source.