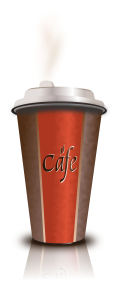 There is something to be said for keeping your composure. There's also something to be said for getting as far away from the scene of the crime you just committed as fast as you can.  Per NJ Advance Media for NJ.com:
Michael J. Cassano, 38, of Oakland Gardens, N.Y., allegedly robbed Hudson City Savings Bank on Essex Street just before 3 p.m. He placed a BB gun on the counter, and the teller gave him $4,000 in cash, Lodi police Detective Capt. Donald Scorzetti said in an e-mail.
Woo-hoo! Quick, scram! Or at least don't linger. Or …
He ran off, but didn't go far, Scorzetti said. He went into a Dunkin' Donuts at 370 Essex Street (about a fifth of a mile away, according to Google Maps) to get a cup of coffee, Scorzetti said.

Cassano then asked a man in the parking lot for a cigarette. As he walked back to his car, two Maywood police officers stopped him, Scorzetti said. Cassano allegedly had both the cash and the BB gun in his possession.

He has been charged with first-degree robbery and two other weapons offenses. Bail has not yet been set, and Scorzetti said federal charges are also pending against Cassano.
You'll find the source, including the mug shot, here.   (This post is brought to you by your friendly neighborhood personal injury lawyer, the neighborhood being Washington, DC, Maryland, and Virginia.)