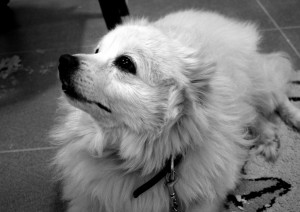 That's not a question this man will want to answer. Why? Because the answer is … dognapping. As reported by The Sun Sentinel:
A canine con man was busted Wednesday after trying to extort an $8,000 cash ransom from a North Naples woman in exchange for her two white 3-year-old Samoyeds, Ava and Snowdot, according to a news release from the Collier County Sheriff's Office.
On Monday, a man, later identified as Dathan Charles Cyr, sent a text message to the woman asking her if she was still looking for her two lost dogs that had been missing since April 14th when they got lost, deputies said.
The brokenhearted woman reportedly had placed ads in local publications and passed out fliers offering a reward for her lost pooches.
The woman answered the mysterious texter, who claimed to be a Latina female named 'Diana' who lived in Immokalee, that she was still looking for her dogs. 'Diana' claimed to have the dogs, the release stated.
'Diana' then allegedly threatened to shoot the dogs if the woman wouldn't pay the $8,000 ransom.
You bastard!
So the woman contacted deputies who devised a plan to collar the doggie-napper.
A meeting with 'Diana' was arranged, and on Wednesday an envelope was dropped off at a designated location in Naples chosen by 'Diana."
Clearly "Diana" never watches TV.
When 'Diana", aka Dathan Charles Cyr, showed up five minutes later and snatched the envelope, deputies stationed nearby put a leash on the suspect and later hauled him the The Big Dog House, according to the report.
For added measure a detective dialed the phone number that the suspect used to call the woman…and the cell phone in Cyr's car's center console began to ring, according to deputies.
Boom!
Cyr reportedly later 'fessed up to the crime in an interview with detectives.
Here's the source, including a mug shot, and photos of the dogs.