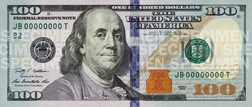 Have you seen a hundred dollar bill lately? You can't just photocopy copy them. This gent went to a little more trouble than that, but not enough! As reported by stlouis.cbslocal.com:
A former Belleville resident is accused of passing fake $100 bills at St. Clair Square mall.

Fairview Heights Police say they arrested 29-year-old Corey Wilson of Chicago on three counts of forgery and delivering forged documents.

Officers say they recovered counterfeit bills from eight stores where Wilson paid for small purchases and got a large amount of change back.

Detectives found the bills were actually $5 notes that were washed and reprinted as hundreds.

A St. Clair County judge set Wilson's bond at $50,000.
Strangely enough, the bond was posted in cash, all hundreds! (No, it wasn't.)  Here's the source, including a mug shot.