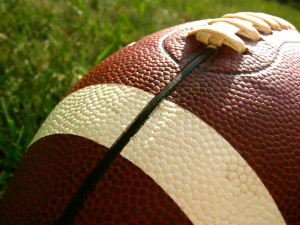 Old folks like The Juice, especially (and almost exclusively) men, often quote from Animal House. As Dean Wormer said: "Fat, drunk and stupid is no way to go through life …" If you could have seen her mug shot (it's been removed) you would have seen that "fat" doesn't apply. "Drunk" definitely does. As for "stupid," judge for yourself. Per The Orlando Sentinel:
An Oviedo Police Department officer who was assisting with security before UCF's [University of Central Florida] first football game of the season against University of Akron got several reports of a woman urinating inside Parking Garage H.
Uh-oh.
When he went to check it out, he found Kristine Johnson of Sarasota naked from the waist down. She is not a UCF student, university officials said.
If you think she went along quietly …
When police commanded her to pull her shorts back on, she complied, her arrest report said. But throughout the rest of the encounter, police say, Johnson resisted arrest by pushing officers away, picking fights with strangers and yelling and cursing repeatedly.
When she was arrested, officials say, she spit on the doors and walls of her holding cell and cursed and yelled at officers.
Well, someone needs to learn some manners! The charges?
She faces multiple charges, including exposure of sexual organs, disorderly conduct and battery on a law enforcement officer.
Oh, and one more thing. She was banned from UCF! Here's the source.