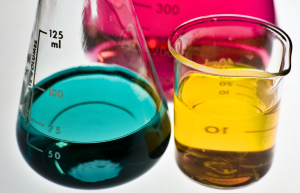 Yes, they did find it in a Walmart bathroom. What was it? Well, per fox59.com:
According to a Walmart spokesperson, an associate noticed a man walking through the store with a backpack just before 11:30 p.m. at the Walmart in the 1500 block of E. 29th St . The associate recognized the man, and said he had been in the store a number of times before to buy stuff related to making meth. The associate notified police who were already at Walmart. Police followed the man, and he went into the bathroom. A short time later, the man came out of the bathroom without the backpack.

Members of the Pendleton District Meth Suppression Team were called to the Walmart to investigate the suspicious backpack left in the restroom. When troopers arrived, they discovered the backpack had an active meth lab inside.
Alrighty then. Here's the source.