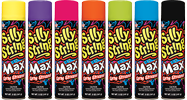 Regular Juice readers may remember this post about a law in Terrebonne Parish, Louisiana that prohibited the sale of silly string within three hundred (300) feet of any parade route within the parish on any day a parade is scheduled.
So, no selling of silly string, only on parade days, and only within 300 feet of the parade route. Well sir, that kind of leniency toward the devil that is silly string will not be tolerated in the town of Hopkinton, Massachusetts! For in that town, you may not sell or use silly string EVER. To wit:
ARTICLE I
Plastic String and Streamers
[Adopted 6-11-1990 ATM, Art. 26]
~ 154-1. Sale and use prohibited.
No person shall sell or expose for sale, use or cause or permit to be used any product designed to project a string or streamer of plastic material.
HT to The Hopkinton Patch for this tidbit.