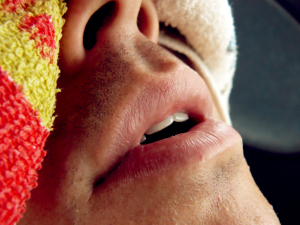 The Juice has known some heavy sleepers. But come on. You don't sleep through this. And remember, is was 4:15 a.m. (Hint: He was probably passed out.)  As reported in brooklynpaper.com's police blotter:
84th Precinct – Brooklyn Heights–DUMBO–Boerum Hill–Downtown

Three lowlifes stole a wallet out of a sleeping straphanger's pocket aboard a 2 train on Sept. 17, the authorities reported.
So how did they do it?
The 24-year-old victim said he fell asleep on a Manhattan-bound train at 4:15 am, and woke up at the Clark Street station with a hole cut in his pocket and his wallet gone.

He saw three fiends exit the train as he woke up, and a fellow passenger told him the crew had done the deed, an account states.
But don't worry. The miscreants did leave a few thinks behind.
Inside the Clark Street station, the victim found his gym membership card and a condom, both of which had been in his wallet, law enforcement officials said.
Yeah, you really don't want to fall asleep late at night on the subway. The Juice has posted a similar story in the past about another gent who also slept through the whole thing!