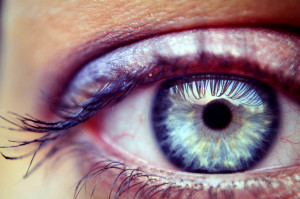 Olay hires Twiggy (age 60) to promote a product (the Definity eye illuminator) that supposedly makes your eyes look younger. Said the ad, next to a photo of Twiggy …
Olay is my secret to brighter-looking eyes.
There's just one small problem – the photo was airbrushed! I kid you not. And it was for this reason, as reported by The Guardian, that the ad …
… has been banned by the advertising watchdog, after more than 700 complaints gathered for a campaign against airbrushing in ads by the Liberal Democrat MP Jo Swinson.
In its ruling, the ASA said that it considered that the post-production retouching of the original ad, specifically in the eye area, could give consumers a "misleading impression of the effect the product could achieve".
A combination of the retouching and the language of the ad was likely to mislead consumers, it ruled.
What was Procter & Gamble's (they own Olay) defense?
P&G said that there would "always be differences between uncomplimentary paparazzi shots and professional beauty photographs".
Really? Just fess up. You perpetrated a fraud (albeit not earth-shattering). You got caught. You're sorry. And it won't happen again. But Nooooooooooooo! (channeling John Belushi from SNL) …
P&G added that it was "routine practice to use post-production techniques to correct for lighting and other minor photographic deficiencies before publishing the final shots as part of an advertising campaign".
That's your defense? That this shit happens all the time? Nevertheless …
The company said that there had been some "minor retouching" around Twiggy's eyes, which was inconsistent with its own policies; this had already prompted it to withdraw the original ad and replace with one in which there was no post-production work around the eyes.
Here's the source, with a picture of the ad.