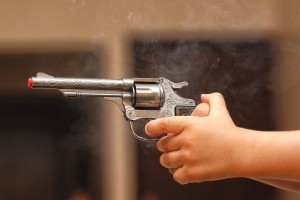 This has to be one of the worst attempted burglaries of all time. It's kind of like three guys running from their own shadows.  As reported by khou.com:
The suspects were among three men who walked into a Katz's Boutique in the 9800 block of the North Freeway on April 13. It was around 3 a.m. and surveillance cameras were rolling.

Police say two of the men had weapons. The suspect with the revolver apparently bumped into the suspect with the rifle, causing the rifle to discharge. "Which then spooked both the suspects," Officer Brieden said.
Doh! You can probably see where this is going.
Both men began shooting, and police believe they thought they were being fired upon. Nearly a dozen rounds were discharged. In reality, all the gunfire was coming from them. Investigators say that is what makes them so dangerous.
More than a dozen rounds! Let's go to the videotape. (Click on the link at the end of the post.)
The video shows the suspect with the rifle shooting through a mannequin and the store's front glass door before the both ran away.
Fortunately …
No customers were inside at the time. Two workers hid and were not harmed.
The burglars are still at large.