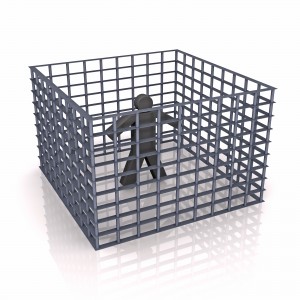 For something that is all about "freedom," this gent has spent a lot of time in jail because of it. For what? As always, The Juice provides you with the naked truth, this time via scotsman.com.
Naked rambler Stephen Gough has been arrested, just three days after he was released from a six-year jail term.
No! Not again!
Gough, who hikes across the United Kingdom nude, was arrested in Townhill, Dunfermline, yesterday afternoon by officers from Fife Constabulary. The 53-year-old had been released from Perth prison on Tuesday.
A spokesman for Fife Constabulary said he had been arrested following complaints from members of the public and had been charged with a breach of the peace.
Damn you public! Seriously, the man is not hurting anyone.
The former marine, from Eastleigh in Hampshire, earned the "naked rambler" nickname by walking unclothed from Land's End to John o' Groats after quitting his job as a lorry driver.
He said earlier this week, as he walked free from jail, that he planned to walk to England to see his family.
In the past, officers at Perth prison would wait at the gates of the jail to re-arrest him on his release as he set off naked. However, this week they decided to turn a blind eye.
Finally! The man served his country. Good choice to let him be.
As he strolled through Perthshire naked on Thursday, he reportedly said: "The human body is not offensive – anyone who thinks this is offensive is acting irrationally. It is social conditioning gone wrong."
Gough went on: "Freedom is why I am doing this. The naked bit is secondary. So I've not won or lost my battle. I've not lost time behind bars because I am still alive and free. And that's how it will stay."
He said he had spent up to 23 hours a day in solitary confinement at Perth because of his refusal to wear clothes.
If that's true, it's beyond idiotic. It's inhumane.
He said the time passed quickly and that, although he had expected trouble from some inmates, most had been supportive and friendly.
As for the origin of the journey …
Gough's initial Land's End to John o' Groat's trip began in 2003 and was beset with difficulties, including numerous arrests, beatings from gangs of youths and time in a psychiatric hospital. [A psychiatric assessment has concluded that Gough is sane.]
Each time he has appeared in court, he has been naked apart from a blanket. He has mostly been charged with a breach of the peace by conducting himself in a disorderly manner, by walking naked in the presence of the public.
He continues to refuse to wear clothes, and says that he would like to repeal indecency laws and establishment attitudes.
For this he's spent the past 6 years in jail? Not cool. Here's the source, including a photo of Mr. Gough.