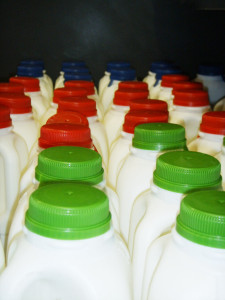 This is just not a smart way to cool yourself off for a lot of reasons – all of them obvious. As reported by wkyt.com:
It was 90 degrees Thursday and a man apparently went into a South Williamson Wal-Mart to cool off.

The Pike County Sheriff's Department on Friday obtained an arrest warrant for a man who entered Wal-Mart naked, shouted "I'm on fire" and then poured a gallon of milk on himself, according to a news release.

The man left the store, hopped into a car with someone else and left. Sheriff's deputies say the incident was caught on camera by a third-party and uploaded to social media.

After investigating, deputies obtained warrants for Timothy Smith of Phelps and David Daniels of Belfry. A release does not say which man is accused of going into the store to cool off.

The two were arrested Saturday afternoon without incident. Both were lodged in the Pike County Detention Center where they are being held without bond.

The investigation is ongoing, and there could be other arrests, the release said.
A dare? Drunk? Stoned? Bored? Chances are we'll find out soon enough. Here's the source.