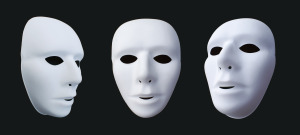 A mask is certainly a fine way to hide your face. It would seem obvious that it doesn't cover everything else though. Obviously this guy didn't think it through that far when he robbed a bank in Merrimack, New Hampshire. As reported by The New Hampshire Union Leader:
The bank robber wore a full-face President Obama mask and carried a Walmart shopping bag when he approached a teller and demanded cash Wednesday morning at the Bank of America branch at 356 Daniel Webster Highway.
Okay. So far, so good.
Police said they later determined the man charged with the robbery had a loaded handgun with him, but did not say whether the robber displayed the weapon during the robbery.
Not cool.
When police responded to the bank at 10:38 a.m., they learned a man wearing a mask, suitcoat, tie, jeans and gloves had demanded money from a teller and left with an undetermined amount of cash.
So he got away. Or … did he?
Witness descriptions pointed officers in the direction the robber had gone. Police Lt. Paul Trepaney went to the area of Columbus Circle, where he spotted a man matching the description of the robber — except for the President Obama mask — coming from behind one of the businesses.
This post could be called "everything but the mask." Brilliant execution!
After what police described as a brief investigation, officers took the man, identified as John Griffin Jr., 52, of 186 S. Main St., Newport, into custody.
Dude probably still had the Walmart bag.
Griffin was charged with robbery and is being held on $75,000 cash-only bail at the Valley Street Jail, pending a probable cause hearing Sept. 20 in 9th Circuit Court, Merrimack District Division.
You'll find the source, and a mug shot, here.