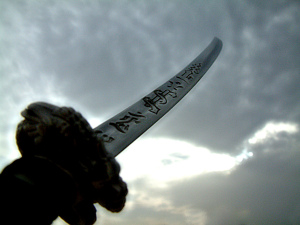 We've all had bad roommate experiences. It's unlikely any of you did anything similar to what this gent did. As reported by rentonreport.com:
A 28-year-old Renton man was arrested early Sept. 30 after he thrust a samurai sword through his bedroom door his roommate was standing behind.
Say what?
The two were arguing when the suspect went into his bedroom. The suspect punched a hole in the door and then thrust the sword out the door, stopping about five inches from the victim's pelvic area.

The victim jumped back and wasn't stabbed. "That could have killed me," he told the roommate.

The suspect was still in his bedroom when officers arrived. He surrendered. He refused treatment for superficial cuts to his hand and arm.

He was booked into the King County Jail for second-degree domestic assault for intentionally forcing the sword through the door in an attempt to stab the victim.
Whew. Five inches! Might want to live on your own for a while.