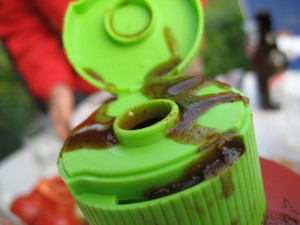 Normally when a woman finds her husband appetizing, that would be a good thing, right? Not this time! Per The Palm Beach Post:
City police say a woman poured barbecue sauce on her husband and went after him with a knife in each hand Tuesday, according to an arrest report made public Wednesday.

Viven Palmer, 30, faces charges of battery, aggravated assault with a deadly weapon and resisting an officer. She was released late Tuesday from the Palm Beach County Jail on $5,000 bail.

On Tuesday morning, police were called to the 1300 block of West 37th Street, south of Silver Beach Road near Avenue O, where a 30-year-old man was waving and yelling from his front door, "Help, police!"

Officers say they heard a woman, later identified as Palmer, yelling from the home, but when she came outside, she refused to speak with them. Instead, she just put items into a parked car outside the home. Police noted to children, ages 4 and 9, were seen in a car, according to the report.

Though she refused to speak with police and told them to leave her home, her husband said the two were arguing about getting a divorce. He said things turned violent and his wife came after him, damaging property along the way. Police noted the home appeared to be ransacked in their report.

He said his wife ripped off his shirt, poured barbecue sauce on him and hit him. When he fought back, he realized she had grabbed butcher knives from the kitchen, so he ran outside.
Yikes! You'll find the source, including Ms. Palmer's mug shot, here.