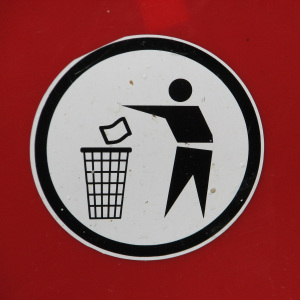 Have you EVER heard of anyone getting a ticket for littering? They should, but it just never seems to happen, much to The Juice's chagrin.  Well, a litterbug in New York got busted, sort of. As reported by brooklynpaper.com:
The litterbug told police that he tossed some trash in the parking lot of a fast-food chain between Kingsland and Morgan avenues at 12:50 pm. A moment later, two men came up to him and showed him shields.
Officer, arrest that man! He just admitted to littering! No?
"Hold on," said one of the men. "What you are doing is illegal."
Citizen's arrest! Citizen's arrest! (This is funny only to geezers like The Juice who watched The Andy Griffith Show.) Sadly, there was no citizen's arrest, but there was a little bit of strange justice doled out.
The fake cops told the man that they would write him a ticket if he did not give them $60 on the spot. They followed him to his house, but he could not find any money there, so they walked him to an automatic teller machine, where he withdrew $60 and gave it to the men, the real cops reported.
Bam! $60 fine!