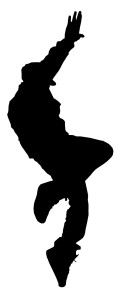 You're thinking this guy must have been drunk or stoned. Apparently not! As reported at myfoxal.com:
Authorities said a man was arrested for dancing on top of a law enforcement SUV because the man said he was dancing to keep vampires away.

Home surveillance video captured the man pulling up in a car behind a Lee County sheriff's vehicle, getting out, and climbing on top of it to dance.

As the man was dancing, the songs Rich Girl, by Hall & Oates, and Goodbye Stranger, by Supertramp, played on his car's radio.

The video later captured the man taking an American flag from a neighbor's yard and deputies taking the man into custody.

While it's not clear if the man's plan to ward off vampires worked, he did damage the vehicle's roof and windshield wipers.

Deputies said the man was not drunk or on drugs, and had not been diagnosed with any mental health issues at the time.

He was arrested for disturbing the peace and criminal mischief.  The video in its entirety was posted on YouTube.
You'll find the source, and that YouTube video, here.
(This bit of Legal Juice is brought to you by, well, The Juice, a personal injury lawyer practicing in Washington, DC, Maryland and Virginia.)