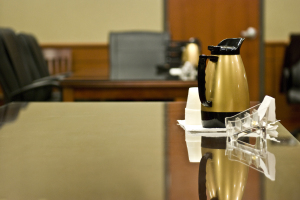 Here's an example of a judge in Arkansas who couldn't keep it in, although he really didn't pay a price for his misconduct. As reported by ArkansasMatters.com:
A Union County District Court judge is being disciplined after the investigation of several complaints.
The Juice has seen worse, but this stuff is just not cool.
One of the complaints involved a witness in a 2013 criminal case. While giving testimony, it was reported that Judge Van Hook appeared "angry, agitated and frustrated," verbally berated the witness, then ordered his arrest without any probable cause documentation from any law enforcement officer or the Prosecuting Attorney's Office.

After the witness's arrest, he hired an attorney and all criminal charges filed against him due to the judge's actions were dismissed by a special judge in 2014.

In other complaints, the Judge was reported to have spoken to people in court in a "discourteous and undignified manner," telling one woman who appeared before him in June 2014 that she had "meth teeth."
He also called someone else before him "stupid" and "yelled at him repeatedly to show his driver's license to the Court."  So what was the discipline?
The action amounts to a Letter of Censure issued to Judge Van Hook, which cites six complaints.
You call that discipline? You'll find the source, including a link to the disciplinary order, by clicking here.