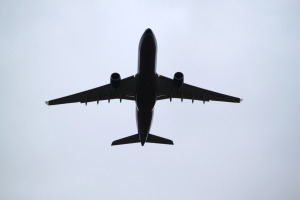 Hey, just like homeowners associations, all clubs have rules. The Mile High Club is no exception, and this mischievousness doesn't cut the mustard. As reported by The Prince George Citizen (Halifax, Nova Scotia):
A flight attendant told the trial of a woman accused of committing an indecent act on a Toronto-to-Halifax flight that she and a man used a coat to cover their laps to fondle each other.
That's a different club, right? Anyway …
The trial for 25-year-old Alicia Elizabeth Lander got underway Wednesday at Dartmouth provincial court.

Lander has pleaded not guilty to committing indecent acts, assaulting a police officer, committing an act of mischief and causing a disturbance at the Halifax Stanfield International Airport last Jan. 24.

John Dunn, who was service director for Air Canada Flight 610, testified for the Crown that Lander had asked if she could change seats to sit with her friend after boarding the plane in Toronto.

Dunn said about an hour into the flight, a passenger had told him the people sitting in 14A and 14B were about to join the "Mile High Club."

He testified that he approached Lander and the man and found them with a jacket over their laps but said he could tell what was happening underneath.

He said he could see Lander's thighs and pink thong.

"Her pants were down around her ankles," said Dunn. "I said, 'I want you to stop this now. It's inappropriate.'"

Dunn said Lander's hand was in the area of the man's crotch making an up-and-down motion.

He said he asked Lander to get dressed and she eventually pulled up her pants, although she initially denied not being clothed.

Dunn said Lander was then asked to go back to the seat she was originally assigned in row 26, where she slept for the remainder of the flight.

He said he notified the captain of the incident, who arranged to have RCMP officers meet them at the gate.

Jason George Chase, 39, was also charged with committing an indecent act in connection with the same incident and had originally pleaded not guilty, but changed his plea to guilty on Wednesday.
You'll find the source here.