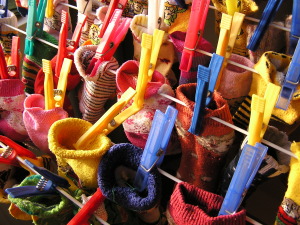 For offenses involving socks, two British men were sentenced to 18 months in jail (for "conspiring to commit acts of gross indecency"), and put on the sex offenders' registry for 10 years.  Per The Southport Visiter:
Two men swindled hundreds of people in Southport out of their socks back in the 1990s.
How do you "swindle" folks out of socks?
Claiming to be collecting the socks for good causes, the men approached unsuspecting victims in the resort's bars and clubs and paid revellers up to £5 for their footwear.
Creepy.
They made sure to take pictures of the victims with their socks and then meticulously tagged each pair with the donor's name before wrapping them in sandwich bags.
Creepier. Guess what the police found at one of the dude's flat?
… 4,000 pairs in binbags in a cupboard. Officers described their astonishment when they found they had to wade through an 18 inch deep "carpet" of smelly socks. "They were everywhere and anywhere," an officer said.

"They were all over the furniture, hanging from lampshades and even in the microwave, frying pan and cooker."

"It was like there had been an explosion in a sock factory and socks had blown all over the place. In my 25 years with the police I have never seen anything like it."
Yikes.