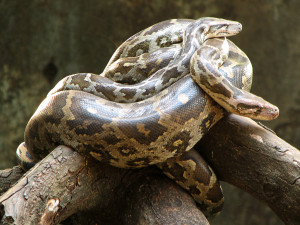 Please, tell The Juice that this Connecticut legislator did not just push the button to talk and say that. Alas, he did. As reported by the The New London Day:
State Rep. Ernest Hewett, D-New London, was removed from his post as deputy speaker this week after making an inappropriate remark to a teenager testifying during a committee hearing.
Go on.
During a Feb. 20 Appropriations Committee hearing, a female 17-year-old ambassador for the Connecticut Science Center asked the committee to continue funding the center's ambassador program.
During her speech, she said the program helped her overcome her shyness and get over her fear of snakes.
"I am usually a very shy person, and now I am more outgoing," she told the committee. "I was able to teach those children about certain things like snakes that we have and the turtles that we have. … I want to do something toward that, working with children when I get older."
Near the end of her speech, committee co-chairman state Rep. Toni Walker, D-New Haven, smiled at the girl and made a comment about how the teen was no longer shy.
All this talk about snakes, you can probably see where this is going.
Hewett, 56, recalled Thursday that he then pushed his microphone button to talk and said, "If you are shy, then I have a live snake under this desk."
Wildly inappropriate does not begin to do justice to this colossally idiotic, insensitive remark.
According to an audiotape of the hearing, Hewett said: "If you're bashful I got a snake sitting under my desk here."
"What I meant to say was, if you are shy then I have an acre of land in the Everglades," he said Thursday.
Did the spin work? Nope.
A spokesman for the Democratic caucus, Gabe Rosenberg, said that in reaction to the comment, Hewett has been stripped of his deputy speaker title. He will lose $6,446 from his salary, which means he will make the base legislative salary of $28,000, according to a legislative document.
And because of the incident, legislators who have not been through a sexual harassment training recently will have to take a refresher course, Rosenberg said. Freshman and sophomore legislators recently underwent training, he said.
You can read more (a fair amount) here.