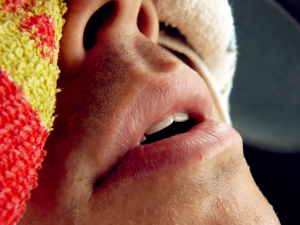 This gent had a pretty good gig – getting paid while he was sleeping. Then, one fateful night, poof! It all disappeared. As reported in the Police Blotter in The Brooklyn Paper
88th Precinct – Fort Greene–Clinton Hill

A crook swiped a Prince Street building's security guard's cellphone on Feb. 3 while he slept on the job, law enforcement officials said.

The guard said he was in a chair in the office of the building between Tillary Street and Myrtle Avenue at 10:30 pm, and dozed off. He woke up at 6 am the next day to find his phone had been taken from his pocket, cops said.
Doh! Goodbye phone. Goodbye job (one would imagine).