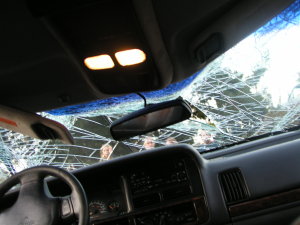 They wouldn't buy this woman's plasma the other day. And based on what she did after being rejected, she'll be peddling her plasma elsewhere in the future. As reported by news4jax.com:
A woman is in the hospital but she soon could be heading to jail after she intentionally drove her car into a Westside plasma donation center, sending eight other people to the hospital, according to the Jacksonville Sheriff's Office.
Yikes!
The crash happened after noon Saturday at DCI Biologicals on Blanding Boulevard, a facility where people can donate plasma.

Police said 35-year-old Pamela Miller arrived at DCI Biologicals with her boyfriend Saturday morning. People inside told News4Jax she had taken several pills while waiting.

From there, police said Miller got into an argument with employees.

"We're getting conflicting stories," said Lt. Derrick Mitchell, of JSO. "Some folks are saying that she was upset because she wasn't able to donate. After she was told she couldn't donate, that's when she crashed the car into the front of the business."

Authorities said Miller was the only one inside of the car when she drove it about 40 feet inside of the business. It didn't take long for police to arrive, as the JSO substation is next door.
40 feet! Shazam! Here's the source, including photos.