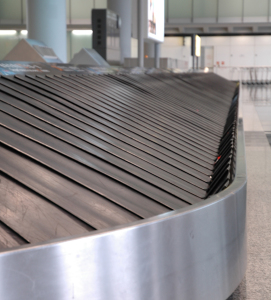 Have you ever had a cold streak, where it seems like your bag is always among the last to emerge and plunk onto the baggage carousel? Well, be glad that you got it at all.  A boatload of folks in Seattle and Portland never got their luggage thanks to these two miscreants. As reported by highlinetimes.com (Burien, Washington):
Police believe that they have identified two individuals responsible for the theft of thousands of dollars in baggage in at least two international airports. According to Port of Seattle documents, two individuals, a man and a woman were caught on camera at SeaTac International Airport stealing 18 bags in early 2014. Each theft is carried out in a similar way with one of the individuals casually approaching an activate baggage claim conveyor-belt, picking up one or more bags, and nonchalantly exiting the baggage claim area. The 18 bags that have been connected with the suspects through security footage have a combined estimated value of over $40,000. The suspects are also wanted in connection to the theft of another 13 bags from Portland International Airport valued at an estimated $18,000. An unidentified tipster helped police identify the two suspects as Kervan Reed and Silvia Brooks, both from Chicago. Reed has since been arrested in Florida for unrelated charges but police are still on the lookout for Brooks as they are unsure if she still in the Pacific Northwest.
Tipster huh? Think someone had an axe to grind?