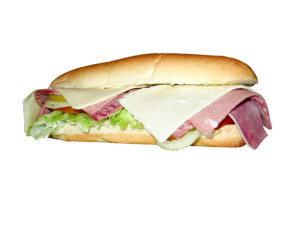 In the wake of all the negative publicity Subway has garnered thanks to Jared, perhaps this could be seen as good publicity? I mean, these kids must really like Subway sandwiches, or they wouldn't have done this. After all, they could have gone after a lot of other food. Here's the story, as posted by wtvr.com (Richmond, Virginia):
Police are looking for a trio of teens seen in surveillance video, who robbed a VCU student of his sandwich at gun point.

Surveillance video shows the three teens, in a Subway sandwich shop, not ordering anything, until one asked for a cup of water.

Police said they then followed a man outside the shop on Semmes Avenue just after he got his sandwich, and stole his meal.

The boldness lay in the timing of the crime and how the suspects seemed not to care that they were caught on camera.  "It's pretty shocking because it was over a sandwich, and we live here," said Moore. "I'm not going to come out alone at night."

People living in the neighborhood said apartment managers have warned them of petty crimes like loose change being swiped from cars, but nothing as serious as an armed robbery.

"I saw three kids walking down the block," said one resident, who believes the three young people he saw, are the same ones seen in surveillance photos as they walked down 12th Street before heading into the sub shop.

Detectives ask anyone with any information about the suspects to call First Precinct Detective Brian Taylor at (804) 646-0689 or call Crime Stoppers at 780-1000.