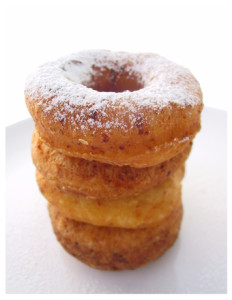 People say the darnedest things! Take this New Jersey gent. (Too late – the cops already did.) As reported by NJ Advance Media for nj.com:
A township man caught with cocaine and a loaded handgun tried to explain away the powder on his face by telling police that he had just eaten a doughnut, authorities said Wednesday.

Police pulled over the Jeep Grand Cherokee that 30-year-old Octavio Delasuaree was driving after it cut off their patrol car Sunday night on Route 23, according to Capt. Laurence Martin.

Officers Joseph Rooney and Robert Fernandez noticed Delasuaree was having labored breathing, while his hands were shaking uncontrollably, Martin said.

Delasuaree also had powder around his nostrils and mouth, Martin added.

"Mr. Delasuaree attempted to explain his condition by stating he had just eaten a doughnut," the captain wrote in an e-mail. "The officers observed a clear plastic bag on the floor that was suspected cocaine."

Police discovered 17 oxycodone pills and a Sig Sauer 9mm semi-automatic handgun in the passenger seat-area, Martin said. The gun was loaded with four hollow point bullets.

Delasuaree told police the gun was for his own protection, according to authorities. He was arrested on charges including possession of a firearm as a convicted felon and drug offenses.

Police said Delasuaree was ordered held on $100,000 bail, with no 10 percent option.
100,000 simoleans? That's a lot of dough. Here's the source.