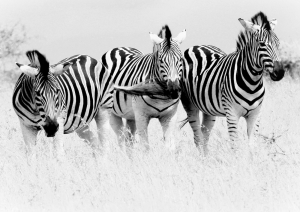 Now you can say you remember when "The Zebra" hit his first bank. Here's how it went down, per The New Hampshire Union Leader:
Police are searching for a man they say robbed a bank while wearing a zebra print dress.
The Zebra is at large!
Police said a man described as white, between 5 feet, 5 inches and 5 feet, 9 inches tall wearing the dress, black-rimmed glasses, white shirt and black overcoat robbed the Bank of New Hampshire branch at 301 North Main St. about 4:30 p.m. Thursday.

The man passed a note to a teller, but did not mention or show any weapon, police said. After receiving some money, he apparently left on foot in a northeasterly direction toward Pizza Hut, police said.
Click here for the source, which includes surveillance photos of The Zebra.