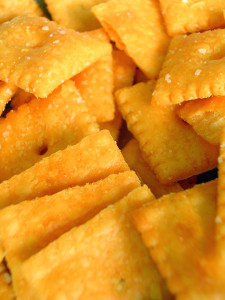 Everyone craves some type of food at one time or another. And although you may not consider Cheez-Its to be food, a New Hampshire man had a serious craving, and apparently no cash. So, according to The New Hampshire Union Leader …
Officer Jacob Tyler was on patrol when he stopped to check on the business. When he pulled up, the clerk came out to tell him he had just been punched in the face. The officer noted redness around the clerk's eye.
The clerk told Tyler he saw a man go out the door after hiding a three-ounce bag of Cheez-It in his pants. The clerk confronted him outside, the two got into a struggle, and the shoplifter punched him in the face and then ran off.
The thief is described as a white man, 6-foot to 6-foot-2 and weighing about 220 to 230 pounds. He wore a black hat and black shirt, both with white designs on them. He also wore black jean shorts with a white belt and white socks.
Two things: Clerk, you pursued a good-sized man over a bag of Cheez-Its? and Thief, you punched a guy in the face over a bag of Cheez-Its?
A man and a woman were also with him, the clerk said. Police located them in front of the Carpenter Memorial Library, 405 Pine St.
One of them, April Skinner, 18, of 800 Union St., was arrested after police say she became agitated, repeatedly shouted obscenities and refused to quiet down, drawing the attention of others inside the library.
She was arrested after a brief struggle with officers on charges of disorderly conduct and resisting arrest.
Perhaps the group is bound together by their common lack of good judgment.
Police said they expect to obtain warrants for the arrest of the shoplifter, who they declined to identify.
Here's the source.