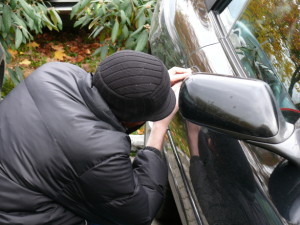 This guy must have played Grand Theft Auto, because what he did could have come straight out of the game. As reported by kaj18.c0m (Montana):
The day-long crime spree happened on May 23, 2013.
And what a day it was.
It started around 7:55 a.m. when the Gallatin County Sheriff's Office got a call that a vehicle had been stolen from Hulbert Road West, between Four Corners and Belgrade. The suspect was described as a man around 30 years old with shaggy collar-length blond hair, wearing jeans and a black shirt and appearing to have a leg injury. The caller said his wife saw the man approach the house, ring the doorbell then drive away in their 2006 blue Chevy Silverado, court papers state.

A deputy found the truck at around 8:36 a.m. on Rocky Mountain Road, but the driver fled, leading law enforcement on a high-speed chase that reached speeds of up to 100 miles per hour along gravel roads, court papers state.

[Matthew] Brandemihl [31] reportedly drove the vehicle into a ravine behind a residence on Sherman Drive then broke into the home, took a woman's phone and four bottles of beer then drove her Ford Explorer through the closed garage door.

Montana Highway Patrol troopers began pursuing Brandemihl again. He led them through the county, driving 95 mph on Frontage Road toward Belgrade, then jumping the railroad tracks, driving through a fence on Interstate 90 where he drove the against traffic before crashing the stolen Explorer into a ditch near Business Hub Drive at around 9:30 a.m., court papers state.

Officers surrounded the area but then found that a resident in the area was missing a GMC truck.

At around 12:11 p.m., dispatchers received a call that the truck was spotted between Pony and Harrison. Law enforcement tracked Brandemihl onto Forest Service land near Pony on foot.

Several hours later, he came out of the woods and surrendered. He was taken to Bozeman Deaconess Hospital for a leg injury.
Are you dizzy too? The outcome?
Brandemihl … pleaded guilty to two felony counts of theft, one count of felony criminal endangerment and a misdemeanor charge of criminal trespass to property. In exchange, prosecutors dropped an additional felony charge of theft.
Next case … wait – not so fast.
Gallatin County District Court Judge Holly Brown initially told Brandemihl she would not accept his guilty plea because she wasn't confident he understood what happened that day. This arose after he said he didn't clearly remember where he was that day, or what his intentions were.

After sitting down with his attorney and discussing the matter, Brandemihl entered his guilty plea and admitted to the judge he stole three different vehicles, drove erratically, entered a home, took beer and led police on a high-speed chase.

Brandemihl will be sentenced on Feb. 25.
UPDATE (per The Bozeman Daily Chronicle):
Mr. Brandemihl was sentenced by Gallatin County District Judge Holly Brown on Tuesday morning. On Friday, Brandemihl will have served 303 days in the detention center and will be released after attending Treatment Court.

As part of the conditions of his sentence, he must complete the Treatment Court program, Brown said. Gallatin County Deputy Attorney Erin Murphy described Brandemihl as having "very serious chemical dependency issues."

In addition to jail time, for which he will receive credit for time already served, Brandemihl was also sentenced to a 10-year suspended sentence in the Montana State Prison on each of three charges, including felony criminal endangerment and two counts of theft. That time will run concurrent. If he violates the conditions set by Brown, he could be sent to prison.

Brandemihl apologized before receiving his sentence.

"I can't really explain what got into me," he said. "I just want to tell everybody that I'm really sorry. I do apologize."

He must also pay $58,379.64 in restitution.