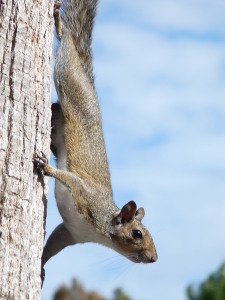 Come on. Zombies are so slow and easy to kill. But squirrels? Those little varmints are fast.  As reported at WashingtonPost.com
Ashburn [Virginia] , Partlow Road, Oct. 21. A caller reported that a squirrel was chasing and attacking children on a playground. An animal control officer observed the squirrel gather food and store it under a swing set. There was no sign of aggression. The officer told people there about wildlife hibernation habits.
Too much coffee? Too much TV? Too many shrooms? Anyway, here's the source.