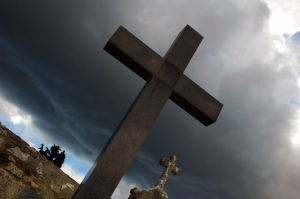 Although The Juice has strong opinions, you are unlikely to meet anyone with the conviction of this Idahoan. Under these circumstances, this is not a good thing. As reported by ktvb.com
A Boise woman is facing felony charges after police say she attacked a Jewish acquaintance, stomping on the woman's neck as part of a bizarre bid to convert her to Christianity.

Margurite Dawn Haragan, 58, has been charged with two counts of malicious harassment in an attack police have labeled a hate crime.

Prosecutors say the incident started when Haragan showed up at the victim's home Feb. 5. It's not clear how the two women know each other.

"The defendant was banging on the front window yelling at her that she better believe in Jesus and she was not going to leave until she did believe in Jesus," Ada County Prosecutor Dave Rothcheck said. He said the victim, identified in court only as "A.G.," opened her door to tell Haragan to leave and to write down her license plate number.

That's when the suspect slapped her in the face and dragged her to the ground by her hair, Roscheck said.

"The defendant began kicking the victim in the stomach and thigh area," he said. "During this time the defendant was screaming at the victim that she better accept Jesus or she would not let up."

Prosecutors say Haragan stepped onto A.G.'s neck as she lay on the ground, pressing down with her foot and pulling up on the woman's head and hair. Eventually, the woman said she would become a Christian in an attempt to placate her attacker, Roscheck said, and Haragan let her go.
Yikes. You'll find the source, and Ms. Haragan's mug shot, by clicking here.