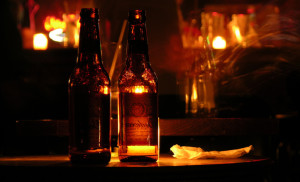 Yes, of course he was drunk. At least this way he has a reason (not an excuse) for fighting over a bottle of Bud … with cops! And he's 20! Brilliant! Per The Northwest Florida Daily News:
A young man didn't want to give up his Budweiser Black Crown to an Okaloosa County Sheriff's deputy and now faces a pair of criminal charges.

The incident that led to the arrest of Travis Michael Abadie, 20, no address listed, took place at the corner of Kelly Street and Third Avenue where deputies encountered a group of young people drinking in the street. When they arrived, the group scattered.

Abadie didn't run off but continued to walk away from deputies, despite commands to stop. A deputy noted he appeared to be intoxicated.
So cool, just strolling away.  Not like his wimpy friends who probably didn't get busted.
A deputy tried to take away his beer and Abadie tried to snatch it back, according to the report. The deputy finally got the bottle, but Abadie continued to resist and struggled with deputies until they used a takedown technique to subdue him.
It bears repeating – he fought with the police over a bottle of Bud, which he possessed in violation of the law! Hence the charges:
He was charged with liquor possession by a person under the age of 21 and obstruction without violence. His plea date is Feb. 18.