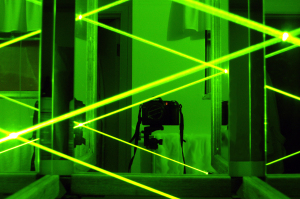 Sure, lasers are cool. Maybe point it on the floor and have your cat chase it around. Or just mess around with it inside. But whatever you, don't do this! As reported by The Charleston Post and Courier:
A 33-year-old man will spend more than three years in federal prison after he admitted to shining a laser into the cockpit of two news helicopters.
3+ years! Sure the time is the worst thing, but what about the inevitable question: "So, what are you in for?"
Prosecutors said in a news release that Damien Conley pleaded guilty Tuesday to aiming a laser pointer at an aircraft and was sentenced to 37 months in prison.

Authorities say two news helicopters in the Upstate were flying over an interstate wreck in November 2013 when a laser was aimed into their cockpits. The pilots were able to maintain control.

Prosecutors say lasers can blind pilots or disorient them.

The specific federal law making it a crime to point a laser into an aircraft went into effect in 2013. It carries a maximum punishment of five years in prison.
Yikes. Here's the source.