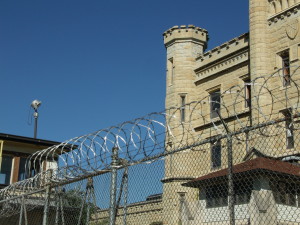 This so strange, you probably just assumed it happened in Florida.  Alas, this odd series of events took place in Ireland. As reported by The Irish Times:
A prisoner in Mountjoy Prison was stranded on a roof of the prison campus for nearly seven hours on Tuesday after climbing up the building to retrieve a bag of drugs.

The Irish Prison Service is investigating how the man, who is serving three and half years for producing an article during the course of a dispute, managed to gain access to the roof area of a building in the Mountjoy Prison Campus.

The man climbed the building to retrieve a package of drugs which was caught in the netting over the prison's exercise yard but was unable to get back down.

A spokesman for the Irish Prison Service confirmed there was no risk that the inmate could have gained access to the perimeter of the prison as the building in question is located in an internal yard on the campus.
Nice plan. And if you're thinking "Hmm, a man alone on a roof for seven hours with his drugs …"
The man, who was removed from the roof at around 8pm on Tuesday, is believed to have been heavily under the influence of drugs having consumed all of the contents of the package.
You were apparently correct! Any more time for that?
The prisoner will be subject to internal disciplinary procedures. An investigation has been launched to try to ascertain how the man accessed the roof and who was responsible for throwing the drugs in from outside the prison walls.
Maybe not. Who knows what "internal disciplinary procedures" means. Click here for the source.