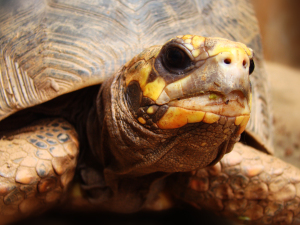 Fans of the Maryland Terrapins have a saying: Fear the Turtle. In this case, it has to be altered slightly: Fear the Turtle's Owner.  As reported by The Palm Beach Post:
On Tuesday morning, Palm Beach County Sheriff's deputies were called to the 500 block of West Kalmia Drive, just east of Old Dixie Highway between Northlake Boulevard and Park Avenue in Lake Park.

[Marie] Seymour [age 53] and her boyfriend were drinking when he said he would harm her turtle and allegedly came after her, according to her recount of the events. The turtle's name was not released.